Státní fond kinematografie
Vážení přátelé českého filmu, nevím, jestli to všichni víte, ale festival AFO Olomouc se koná již 58 let. Ano, to už je slušná letitá tradice. Ale to není jediný důvod, proč ho každoročně Státní fond kinematografie podporuje. Neznám mnoho filmových festivalů, které kombinují filmovou tvorbu, snahu popularizovat vědecké poznání a zapojují také univerzitní prostředí. AFO se stalo (podle mého skromného názoru) v českých poměrech významnou platformou zaměřenou na nezávislou filmovou tvorbu, přináší zajímavé snímky, které by se jinak nedostaly do tuzemské distribuce a k českým divákům. Zaměření na vědecké filmy znamená jakousi nadstavbu v podobě zajímavých poznatků a podnětů z oblasti poznávání a vzdělání. AFO přináší i zajímavá setkání a debaty se světovými osobnostmi jako Richard Dawkins, David Eagleman nebo Jane Goodallová, abych jmenovala alespoň několik hostů z minulých ročníků. Právě v možnosti o těchto zajímavých věcech diskutovat a uvědomovat si je, věcech a procesech, které přesahují naše každodenní běžné životy a zároveň se stávají jejich každodenní součástí, má olomoucký festival unikátní postavení určitě v tuzemsku, možná i ve středoevropském porovnání. A na závěr musím podotknout, že jsem si úvodní slovo napsala (zatím) sama, ale příští ročník se polepším a využiji AI.
Helena Bezděk Fraňková
Ředitelka Státního fondu kinematografie

Ministerstvo školství, mládeže a tělovýchovy
Vážení fandové kinematografie, je mi ctí a zároveň potěšením podpořit filmový festival Academia Film Olomouc, který významně přispívá k popularizaci vědy a vzdělání u široké veřejnosti. Cílem festivalu je ukázat, že věda a poznání jsou oblasti, které jsou důležité pro nás všechny. Letošní 58. ročník festivalu s podtitulem Echo se zaměřuje na opakované navracení problémů, kterým lidstvo čelí. Jsou to témata, jako klimatické změny, ekonomika a koncept nerůstu, psychické zdraví nebo identita a to, jak ji společnost formuje. Jako ministr školství bych chtěl zdůraznit, jak důležité je takovéto kulturní akce, které dokáží skloubit umění s vědou a poznáním, podporovat. Věřím a doufám, že se festivalu Academia Film Olomouc bude i nadále dařit a bude se těšit stále většímu zájmu publika. Přeji všem účastníkům a návštěvníkům příjemné a inspirativní zážitky.
Vladimír Balaš
Ministr školství, mládeže a tělovýchovy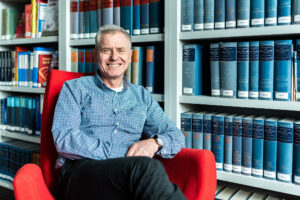 IOCB Tech
AFO je prostě nezapomenutelné: kvalitní dokumentární filmy v jedinečné atmosféře historického centra Olomouce a bezprostřední setkávání diváků s vědeckými osobnostmi i filmovými tvůrci. Přeji organizátorům, aby se 58. ročník vydařil stejně jako ten předchozí. Těžko si umím představit, že by to šlo udělat ještě lépe, nicméně AFO dokáže pokaždé překvapit. Návštěvníkům festivalu pak přeji intenzivní zážitky, inspirativní diskuse i odpovědi na některé otázky spjaté s aktuálními tématy.
Martin Fusek
Ředitel IOCB Tech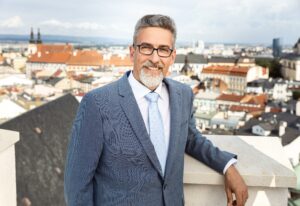 Statutární město Olomouc
AFO je bezesporu jeden z nejvýznamnějších počinů v kalendáři města. Spojuje nejen tvůrce s publikem, ale doslova celý vesmír. Kdo si letos neudělá alespoň chvíli času, přijde o sekci Chronos, v níž se zachytí lidská paměť a neopakovatelná krása pomíjivosti času.
AFO je vesmír sám pro sebe, ten nejdokonalejší, který znám. Protože když chcete vědět, stačí se dívat!
Mirek Žabánek
Primátor města Olomouc
Univerzita Palackého Olomouc
Milí příznivci vědeckého poznání, náš rok nemusí být nutně jen kalendářní nebo akademický. Pro každého mohou být důležitá jiná data. V Olomouci se už od roku 1966 nabízí právě AFO. S nadsázkou mohou návštěvníci festivalu mít rok vymezený období mezi jednotlivými ročníky, AFO je pro mnohé z nich srdeční záležitostí. Tématem letošního ročníku je ECHO, je míněno jako reflexe zkušeností, které nás posouvají dál, ozvěna myšlenek, které nám pomáhají měnit věci k lepšímu. Věda takovou moc má. Přeji festivalu úspěch a zájem diváků.
Martin Procházka
Rektor UP